March 16, 2023 Jewellerybusiness.com 
bit.ly/3Z0HvNm
The Ekati Mine in Canada's Northwest Territories has found a new owner who is keen to extend its life.
Arctic Canadian Diamond Company has entered into a binding share purchase agreement with publicly traded Australian company, Burgundy Diamond Mines, Ltd. The Perth-based company, which owns and operates a diamond cutting and polishing facility, has agreed to acquire 100 per cent of Arctic Canadian's assets (including, notably, Ekati Diamond Mine) for $187 million (US$136 million).
The sale, which comes just over two years after Calgary-based  Arctic Canadian purchased Ekati from Dominion Diamond Mines, will, ideally, lead to continued operations and longevity for the mine, Arctic Canadian said in a statement.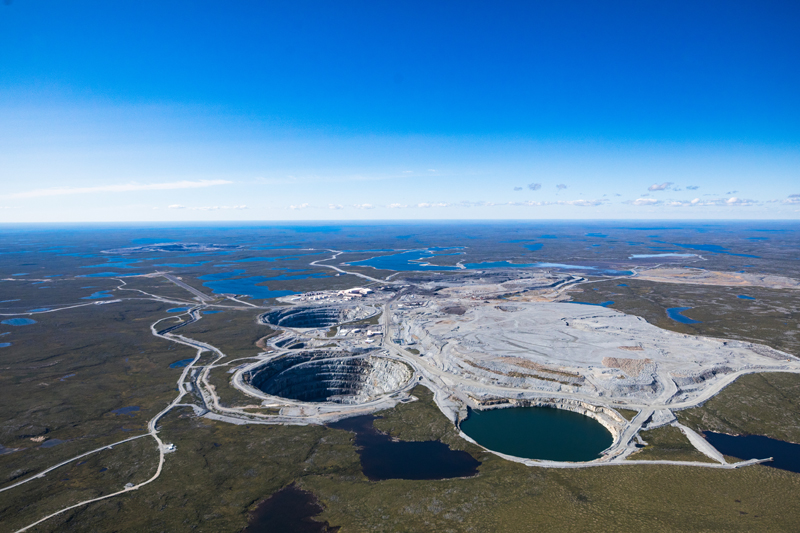 The company has a workforce of approximately 1,100 people, many of whom are from local communities in the North.
"I am optimistic about the future of Arctic Canadian," says the company's chief financial officer, Kristal Kaye. "This equity-based investment by Burgundy will greatly improve the financial foundation of the company and our goal of extending mine life at Ekati, while continuing to provide employment opportunities for many people in Northern communities."
Post-transaction, Burgundy says it will focus on optimizing Ekati's performance and extending its life through, among other things, underwater remote mining and systematic exploration using newly applied machine learning technology (i.e. artificial intelligence).
"The transaction is a genuine game-changer for both Burgundy and Arctic Canadian," says Burgundy's executive chair, Michael O'Keefe.
"I believe this transaction is a significant positive development for Ekati and for the North," adds Rory Moore, president and CEO of Arctic Canadian.
The proposed transaction is subject to financing and the approval of Burgundy's shareholders, which is expected in late April of this year.
"I want to acknowledge and thank our current owners for facilitating the restart of operations at Ekati in early 2021," Moore adds. "The hard work of our people has led to a return to steady state profitable operations and successfully demonstrated the longer-term value of the Ekati asset that attracted Burgundy to this transaction."